Results Highlights
Consumer sentiment was badly shaken by the poor state of the economy.
Advertiser sentiment was similarly shaken to affect the entire media sector.
As a result, consolidated operating profit decreased by HK$39 million year-on-year but improved by HK$122 million half-on-half to return to profitability.
The first half of 2009 was a more direct reflection of the current state of the business. The second half of 2008 had been marked by non-recurring items and included discontinued businesses.
For the core business, total revenue decreased by 13% year-on-year and 8% half-on-half. Operating profit decreased by 47% year-on-year but improved by HK$81 million half-on-half.
Migration to a more secure encryption system is expected to be completed by October to better protect the Pay TV revenue.
High definition TV service is being rolled out this month to coincide with the opening of the new European soccer season and the climax of the US PGA Tour season.
Subscriber and revenue development have gained renewed momentum. Together, they are establishing a firmer and more resilient business base for the upcoming months.
Non-core businesses reported lower revenue due to discontinued units. Results from the continuing units improved.

GROUP RESULTS

The unaudited Group profit attributable to Shareholders for the six months ended June 30, 2009 amounted to HK$5 million, as compared to HK$26 million for the corresponding period in 2008. Basic and diluted earnings per share were both HK$0.002 for 2009, as compared to both HK$0.013 last year.

The Board has resolved not to declare any interim dividend for the six months ended June 30, 2009 (2008 interim dividend: Nil).

MANAGEMENT DISCUSSION AND ANALYSIS

A. Review of 2009 Interim Results

The Group has returned to profitability despite the harsh economic environment.

Consolidated turnover decreased by 19% to HK$862 million.

Operating costs before depreciation decreased by 16% to HK$722 million. Programming costs decreased by 8%, network costs decreased by 9%, selling, customer service, general and administrative expenses decreased by 21% and cost of sales decreased by 68%.

Depreciation decreased by 16% to HK$139 million to follow the steady trend in recent years.

Net profit of HK$5 million was achieved (2008: HK$26 million), after reporting a net loss of HK$137 million in the second half of 2008.
Basic earnings per share were 0.2 cents as compared to 1.3 cents in 2008.


B. Segmental Information

Pay Television

Subscribers increased by 30,000 or 3% in the period to 947,000. Turnover decreased by 15% to HK$595 million, mainly attributable to dilution from lower yield subscriptions. Operating costs after depreciation decreased by 7% to HK$594 million. Operating profit of HK$1 million improved by HK$56 million half-on-half to return to profitability (2008: HK$61 million).

Internet & Multimedia

Broadband subscribers decreased by 6,000 or 2% in the period to 260,000 and the Voice conveyance service maintained at 150,000 lines. Turnover decreased by 10% to HK$266 million. Operating costs after depreciation decreased by 8% to HK$185 million primarily due to lower depreciation charges. Operating profit of HK$81 million increased by 46% from HK$55 million in second-half last year (2008: HK$93 million).

C. Liquidity and Financial Resources

As of June 30, 2009, the Group had net cash of HK$621 million, as compared to HK$545 million a year ago.

The consolidated net asset value of the Group as at June 30, 2009 was HK$2,058 million, or HK$1 per share.

The Group's assets, liabilities, revenues and expenses were mainly denominated in Hong Kong dollars or U.S. dollars and the exchange rate between these two currencies has remained pegged.

Capital expenditure during the period amounted to HK$125 million, 84% higher than the same period last year. Major items included new set-top-boxes for the new generation transmission encryption system as well as television production facilities for High Definition channels.

The Group's ongoing capital expenditure and new business development will be funded by cash to be generated from operations and, if needed, bank borrowings or other external sources of funds. The Group also had total short-term bank credit facilities of approximately HK$32 million which remained unutilised as of June 30, 2009.

D. Contingent Liabilities

At June 30, 2009, there were contingent liabilities in respect of guarantees, indemnities and letters of awareness given by the Company on behalf of subsidiaries relating to overdraft and guarantee facilities of banks up to HK$78 million, of which only HK$46 million have been utilised by the subsidiaries.

E. Human Resources

The Group had a total of 2,851 employees at the end of June 2009 (2008: 2,991). Total gross amount of salaries and related costs incurred in the corresponding period amounted to HK$354 million (2008: HK$379 million).

With pay for performance culture, we nurture professionals and talents to strive for excellence.

The Group actively participates in community affairs. We were awarded the "Caring Company Scheme 5 Years Plus Logo" by the Hong Kong Council of Social Service in recognition of our continuous commitment in corporate social responsibility.

F. Competition and Operating Environment

The operating environment remained austere with competition coming from both without and within the Pay TV market. Free digital terrestrial television continued to expand coverage albeit at a slower pace, competing indirectly with Pay TV, but there is yet to be any significant impact on our business.

The Group will continue to invest in unique programming to achieve positive subscriber growth in the Pay TV sector. Broadband competition has not eased, with mobile operators having joined the crowded marketplace as well.

G. Outlook

There are signs that the Group's main businesses began to recover in the first half. However, these are still early signs and whether these will turn into a sustainable trend will much depend on the macro economy and the competitive landscape.

The Group, in any case, has been prepared for an unfavourable external environment. We have built a new defence system against piracy; given a new look to our entertainment platform; and will launch our own High Definition service showcasing prized premium content this month.

These initiatives have given us confidence in bracing for inclement climate if the economy continues to turn worse; or fresh impetus to grow our business when the economy recovers.


CODE ON CORPORATE GOVERNANCE PRACTICES

During the financial period under review, all the code provisions set out in the Code on Corporate Governance Practices contained in Appendix 14 of the Rules Governing the Listing of Securities (the "Listing Rules") on The Stock Exchange of Hong Kong Limited (the "Stock Exchange") were met by the Company, except in respect of one code provision providing for the roles of chairman and chief executive officer to be performed by different individuals. The deviation is deemed necessary as, given the nature and size of the Company's business, it is at this stage considered to be more efficient to have one single person to hold both positions. The Board of Directors believes that the balance of power and authority is adequately ensured by the operations of the Board which comprises experienced and high calibre individuals, a substantial proportion thereof being independent Non-executive Directors.


UNAUDITED CONSOLIDATED PROFIT AND LOSS ACCOUNT
For the six months ended June 30, 2009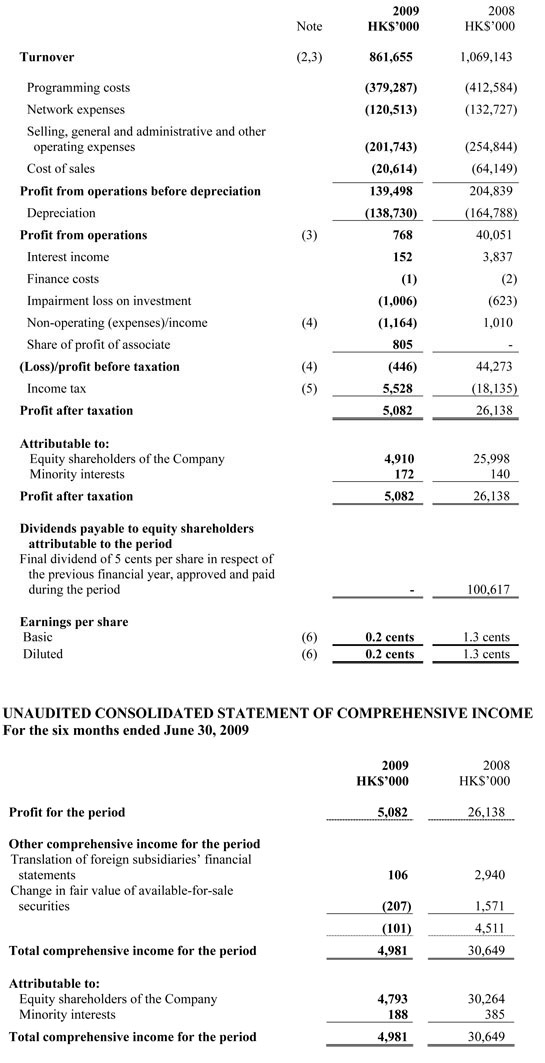 CONSOLIDATED BALANCE SHEET
At June 30, 2009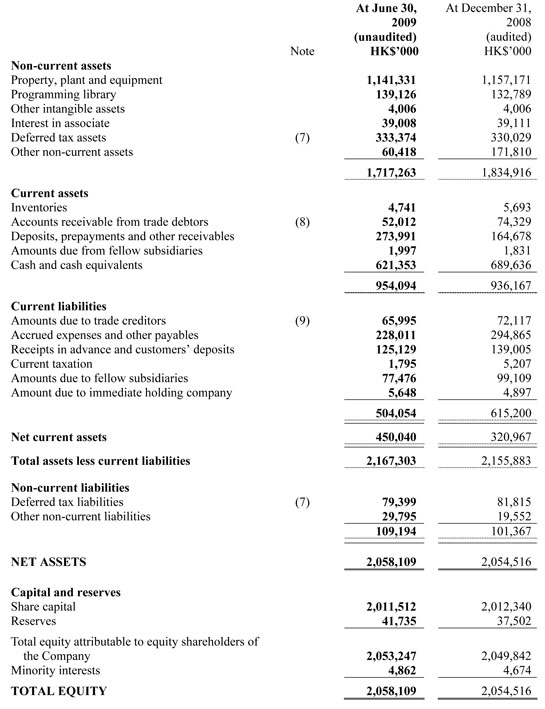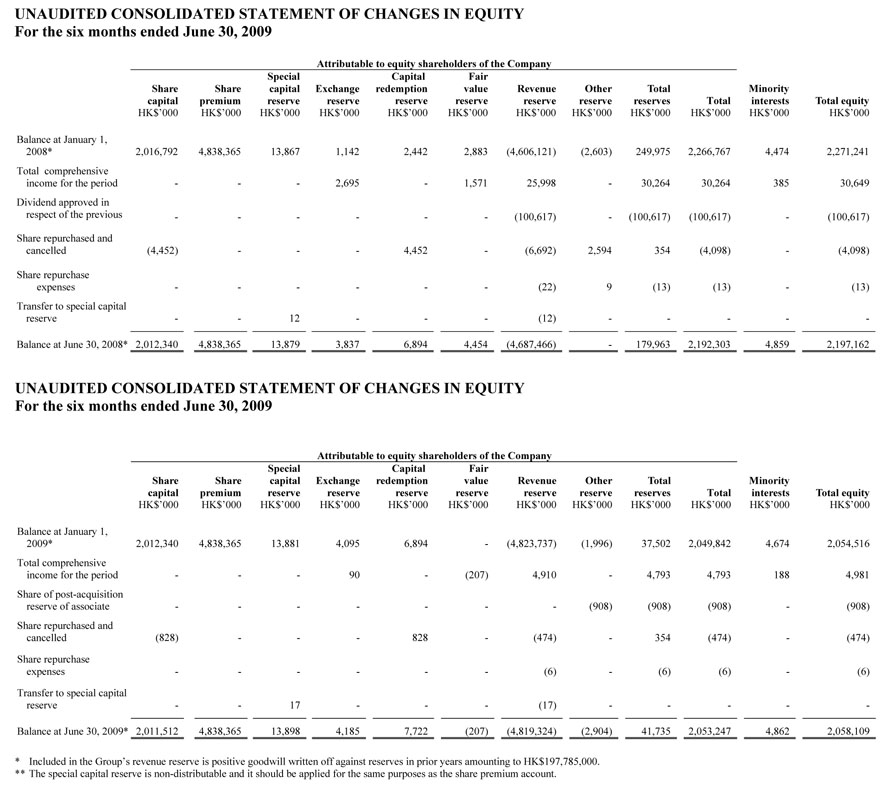 NOTES TO THE INTERIM FINANCIAL REPORT

(1) Basis of preparation and comparative figures

The unaudited interim financial report has been prepared in accordance with the requirements of the Main Board Listing Rules of The Stock Exchange of Hong Kong Limited, including compliance with Hong Kong Accounting Standard 34 "Interim financial reporting" issued by the Hong Kong Institute of Certified Public Accountants ("HKICPA").
The HKICPA has issued certain new and revised Hong Kong Financial Reporting Standards ("HKFRSs") that are first effective or available for early adoption for the current accounting periods of the Group. We believe the adoption of these new and revised HKFRSs will not have a material impact on the Group's financial position or results of operations.
The interim financial report has been prepared in accordance with the same accounting policies adopted in the 2008 annual financial statements, except for the accounting policy changes that are expected to be reflected in the 2009 annual financial statements.

(2) Turnover

Turnover comprises principally subscription and related fees for Pay TV and Internet services, Internet Protocol Point wholesale services and also includes advertising income net of agency deductions, channel service and distribution fees, programme licensing income, film exhibition and distribution income, network maintenance income, and other related income.

(3) Segment information

Substantially all the activities of the Group are based in Hong Kong and below is an analysis of the Group's revenue and result by principal activity for the six months ended June 30:





(4) (Loss)/profit before taxation

(Loss)/profit before taxation is stated after charging/(crediting):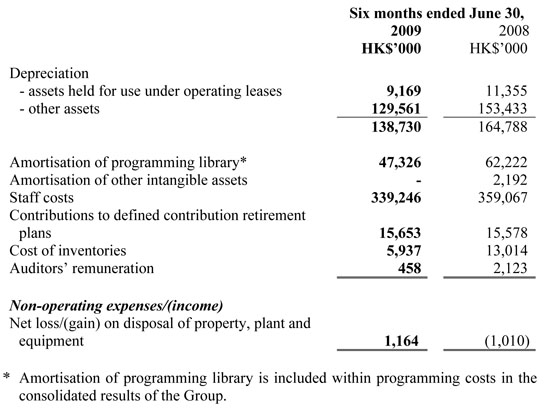 (5) Income tax

The provision for Hong Kong Profits Tax is calculated at 16.5% (2008: 16.5%) of the estimated assessable profits for the period. Taxation for the overseas subsidiaries is charged at the appropriate current rate of taxation ruling in the relevant countries. The income tax charge for the six months ended June 30 represents:






(6) Earnings per share

The calculation of basic earnings per share is based on the profit attributable to equity shareholders of the Company of HK$5 million (2008: HK$26 million) and the weighted average number of ordinary shares outstanding during the period of 2,011,856,289 (2008: 2,012,885,941).

(i) Weighted average number of ordinary shares





The calculation of diluted earnings per share is based on the weighted average number of ordinary shares of 2,011,856,289 (2008: 2,012,885,941) after adjusting for the effects of all dilutive potential ordinary shares.\

(7) Deferred tax in the balance sheet

The components of deferred tax (assets)/liabilities recognised in the consolidated balance sheet and the movements during the period are as follows: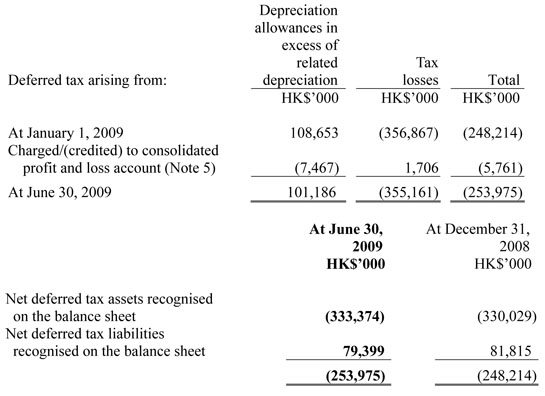 (8) Accounts receivable from trade debtors

An ageing analysis of accounts receivable from trade debtors (net of allowance for doubtful debts) is set out as follows:



The Group has a defined credit policy. The general credit terms allowed range from 0 to 90 days.


(9) Amounts due to trade creditors

An ageing analysis of amounts due to trade creditors is set out as follows:

(10) Review of results

The unaudited interim financial report for the six months ended June 30, 2009 has been reviewed with no disagreement by the Audit Committee of the Company.


PURCHASE, SALE OR REDEMPTION OF SHARES

Set out below are particulars of certain repurchases (all occurred in March 2009) by the Company of its own ordinary shares made on the Stock Exchange during the financial period:-



The above repurchases were made for the purpose of achieving an increase in the consolidated net asset value and/or earnings per share of the Company.

Save as disclosed above, neither the Company nor any of its subsidiaries has purchased, sold or redeemed any listed securities of the Company during the financial period under review.



By Order of the Board
Wilson W. S. Chan
Company Secretary

Hong Kong, August 11, 2009


As at the date of this announcement, the Board of Directors of the Company comprises Mr. Stephen T. H. Ng, Mr. William J. H. Kwan and Mr. Paul Y. C. Tsui, together with three independent non-executive Directors, namely, Mr. T. K. Ho, Mr. Patrick Y. W. Wu and Mr. Anthony K. K. Yeung.