"Newsline Express Anchor Contest" A great chance for you to act as news anchor
(22 November, 2005 - Hong Kong) Kowloon-Canton Railway Corporation (KCRC) and Hong Kong Cable News Express Limited (HKCNE) are going to organize the ''Newsline Express Anchor Contest'' on 3rd and 17th of December 2005. It is an excellent chance for participants to act as news anchor, experiencing the feeling of reporting news in front of the news camera.
Participants are required to present a particular news script during the competition. A champion and 2 distinction winners will be chosen by the team of judges from both KCRC and HKCNE. Besides the amazing prizes, winners would have chance to participate in an outdoor news story shooting which would be shown in Newsline Express of KCR's East Rail, West Rail and Ma On Shan Rail.
Details of Newsline Express Anchor Contest:
Date: 3rd and 17th December 2005 (Saturday)
Venue: KCR's East Rail Hung Hom Station Unpaid Concourse
Time: 11am - 7pm
For further information about this contest, please click the following poster: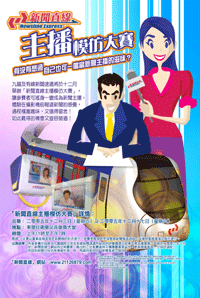 -End-