(4 August 2005 - Hong Kong) Hong Kong Cable News Express Limited (HKCNE) today (4 August, Thursday) held a worshipping ceremony to celebrate the business commencement of commercial airtime sales on Newsline Express.
The ceremony was officiated by Mr. Stephen Ng, Chairman & Chief Executive Officer of i-CABLE Communications Limited and Mr. Samuel Tsang, General Manager of HKCNE. Other participants included division heads and department heads of CABLE TV and also full team of HKCNE. All participants gave their best wishes for the airtime sales business of Newsline Express.
Before attending the worshipping ceremony, Mr. Stephen Ng and Mr. Samuel Tsang also visited the sales office of Cable News Express and the Appointed Media Centre of Newsline Express, where Mr. Ng and Mr. Tsang were briefed about the procedures of delivering update CABLE TV News to KCRC trains.

-End-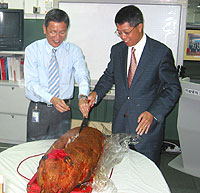 Mr. Stephen Ng and Mr. Samual Tsang hosted the worshipping ceremony.